Winter Works of Art in Breckenridge
Snow sculptors from around the world gathered the last week in January to compete for the glory of a gold medal. Each year, for the last twenty-eight years, teams of talented artists have transformed a block of snow into a masterpiece during the International Snow Sculpture Competition.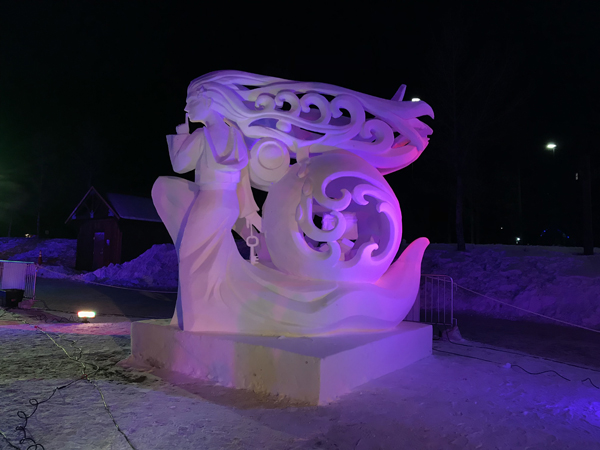 The Medium and Tools
The artists start with a twelve foot block of snow, weighing 50,000 pounds. These blocks are created in Breckenridge by a brigade of volunteers in the days approaching the competition. Artists are allowed to shave, sculpt, and mold the snow into a sculpture using only hand tools. Included in their arsenal are saws, chisels, chains, chicken wire, and even vegetable peelers. Over the course of a week the sculptors add intricate detail to larger than life sculptures for a magical effect. Internal support, power tools and colorants are all prohibited from the competition.
The Competitors and Winners
According to the Summit Daily, 250 invitations are sent to artists requesting submissions for sculpture designs. From the submissions, sixteen teams are chosen to compete in this prestigious event. Eleven countries were represented in all, and included teams from the United States, Italy, Estonia, Mongolia, Lithuania, Switzerland, Argentina, Turkey, India, and Mexico. The results are sixteen breathtaking sculptures crafted from one of the mountain's most significant resources, snow.
This year the gold medal winner was team Mongolia Erdene with their sculpture "Secrets." The sculpture depicted a woman with intricate flowing hair and gown, holding a key, presumably to her secrets. Team China was awarded the silver medal for "The Thinker, " a gorilla deep in thought over an apple. The bronze was give to team USA Wisconsin for "Dance Devine." In this sculpture leaves appeared as though they were moving in a delicate dance. In addition to the judged awards, people's choice went to "Secrets" and kid's choice went to "The Thinker."
Plan for 2019
If you have never encountered the snow sculptures, put them on your calendar for next year. You can watch artists carve and create throughout the week. Then, you can enjoy the finished product. The sculptures are especially magnificent at night, when colored lights dance and play on the sculptures. Plan to include this event in your ski trip or take a day trip to enjoy the mountains and the sculptures. You won't be disappointed.