What can a regular facial do for your skin? Why would you need one? You can combat dry skin, oily skin, break outs, wrinkles and more with a facial. You can even use less makeup with a regular facial and daily skin care routine. Check out Allure's beauty columnist's journey with a weekly facial to see the tangible results of regular skin care. No matter your age, or what type of skin you have, a skilled esthetician can give you the facial you need to help your skin feel rejuvenated.
Facials for Dry Skin
Dry skin is a common problem in Breckenridge, with the high elevation. Whether you are long term resident, or in Breckenridge on vacation, a facial can help hydrate and revive your skin. Exfoliation will remove all of the dead skin cells, while massage with hydrating essential oils will restore you skin.
Facials for Teens
Teenagers are often faced with the opposite problem. Their unique phase of growth and development often leads to oily skin and clogged pores resulting in blemishes. Rather than covering them up with concealer, a facial can get to the root of the problem. Special care is given to cleansing and exfoliation during the Teen Deep Cleanse Facial at the Spa at Breckenridge. Extractions and a hot towel compress address pores. Finally, the facial is completed with a mud mask and a facial massage to release toxins.
While stress is often considered an adult problem, the American Psychological Association found that teens reported a higher level of stress than most adults. This amount of stress at a such young age can cause all kinds of health and wellness problems, ranging from difficulty sleeping to full on anxiety attacks. A facial can help reduce stress and tension, often having a calming effect on inflamed skin. Your esthetician will want to discuss your daily skin care routines, as well as your diet, to preserve the effects of the facial in between visits.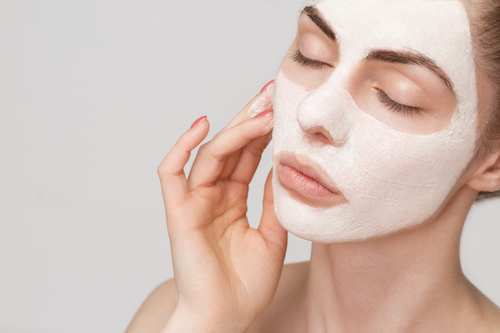 Age Repair Facial
If you are concerned about wrinkles or want to tighten your skin to prevent sagging and lines, try the Age Repair Facial. This facial offers 75 minutes of intense care and rejuvenating therapy for the skin. Inca inchi and larch oils promote collagen growth to tighten and firm skin. More oils are then applied to promote cell renewal. Two separate masks work together to firm up skin. A lymphatic massage will help flush out toxins and leave you feeling refreshed. A hand, foot, and scalp massage are also included with this facial to give you the ultimate, relaxation experience.
Self Care Routine
Your self care routine can become even easier when you already have a regular massage or body treatment scheduled. The express facial is an additional thirty minutes of care targeted directly at your specific skin care needs. If you want to keep your skin looking healthy and vibrant add on an express facial to your body treatment or mas-sage. This particular facial can only be scheduled as part of your other treatments at the Spa at Breckenridge.
Show Off Your Beautiful Skin
Strong, supple, glowing skin is achievable. A facial can help cleanse deeply, exfoliate, hydrate, and detoxify, as well as promote rest and relaxation. All of these things work together to create stunning skin and help eliminate stress. Your esthetician will be happy to talk with you about your skin care needs. Then, they can apply the appropriate oils, masks, scrubs, and more to combat your specific problem areas. They can also help you develop a skin care regimen that will have your skin looking phenomenal. Say goodbye to your thick foundations and concealers and hello healthier happier skin. Schedule your appointment for a facial at the Spa at Breckenridge.