Skiing involves muscles that aren't used for everyday activities or even other sports. Hitting the slopes cold, with muscles that aren't loose and properly stretched, could result in injury. Stretching before you ski can also prevent sore muscles in the days following skiing.
Knees and hips typically take the brunt of the impact when you are skiing. Many injuries caused by skiing are knee injuries. Torn ACLs are particularly common. Injuries occur due to unexpected falls, but also happen because of the impact on joints and muscles run after run. Stretching before you ski can help you avoid unpleasant injuries and keep you on the slopes year after year.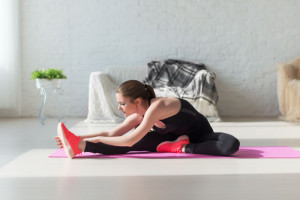 Pre-Skiing Stretches
Stretch Coach suggests the Lying Knee Roll-Over Stretch and the Kneeling Quad Stretch. To perform the Lying Knee Roll-Over, lay on your back with your arms stretched out to either side. Bend your knees and allow them to fall to the right. Your hips and back should rotate with your legs. Alternate your knees from side the side. For the Kneeling Quad Stretch, kneel on one knee, keep the alternate foot flat on the floor. Push your hips forward. Alternate which knee you kneel on.
In-Ski Stretches
FitDay recommends a few in-ski stretches. On a flat surface, in your skis, with the skis placed together, reach down, keeping your legs extended and touch the outsides of your ski boots. For another in-ski stretch, stand in your skis and slowly sit down into a squat. Then lift yourself slowly to a standing position.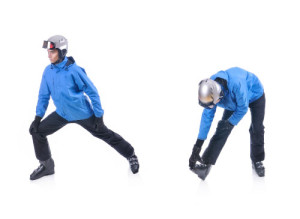 Preseason
You can prepare for your ski vacation or even a whole season on the slopes by getting plenty of exercise and stretching regularly. Stretching the day you ski will help immensely, but nothing can beat stretching for muscle maintenance and staying limber all year long.
Post Skiing Massage
Even the most seasoned skiers can still get sore. One of the best solutions for soreness, recommended by an article in the New York Times, is a post skiing sports massage. A sports massage will help your muscles stay loose and reduce soreness the following morning.
After a long day of skiing you can cool down by taking an easy run right into The Spa at Breckenridge. Stop in for your post skiing sports massage and feel ready to start fresh in the morning.