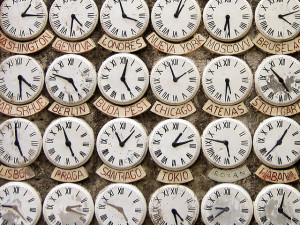 If you are one of the 1.6 million annual skier visits to Breckenridge, chances are you will be traveling to our mountain town via airplane. And what happens when you travel by plane, especially to those who across the International Date Line? You may experience something called jet lag. Otherwise known as time zone change syndrome, jet lag disrupts the usual body rhythms that can cause a variety of symptoms including; fatigue, body aches, insomnia and nausea to name just a few. Don't fret, however, as your ski vacation doesn't have to be ruined by this nasty little ailment because there are ways to tackle jet lag … one such method being our 90-minute well being treatment aptly named the Jetlag Cure.
But, before we delve into the Jetlag Cure from our Breckenridge spa, just know that there are many other unproven treatments for this modern condition that often do no real healing. Melatonin is one such product that many claim will help with Jetlag, and although there have been some positive results, it isn't always a cure for the symptoms. Since the medical field has not had much luck with treating the symptoms of Jetlag, alternative means of treatment (such as massage) have been very promising and are now being widely used. Enter the Jetlag Cure massage from our spa in Breckenridge.
With the overall goal of a massage to loosen and relax the muscles of the body, it only seems natural that a massage will help the whole body relax and aid you in sleeping better afterwards. A massage tackles two issues that many jetlagged individuals feel: insomnia and body pain. So, why do massages work so well in combatting jetlag? It's simple … a massage rests and restores the natural rhythms of the body, cutting the recovery time down to a fraction of what it would have been otherwise. But, keep in mind that a jetlag massage may not cure all of your symptoms as individuals vary in body type, body size and personality … contributing to how bad your case of jetlag is and how much a massage may help. There, however, are some things you can do before and after imbibing in your massage.
Stay hydrated. Dehydration can lead to jet lag and a bad massage. It is important to drink plenty of water before and after your massage. Also be prepared to feel immensely relaxed after your treatment, so make sure to hire a taxi or get a ride home from our Summit County spa.
Jetlag is a real issue, but due to it being a particularly modern malady there has not been much research done nor effective treatments. So, just know that a holistic approach –  such as a massage – can ultimately be the difference between a successful or miserable ski vacation in Breckenridge.
Contact us today to book your Jetlag Cure.