You may be surprised to learn that in Sweden and most of Europe, Swedish massage is known as classic massage. In fact, Swedish message was not even invented by a Swede, as was commonly assumed. Peter Ling is typically credited with the development of Swedish massage. However, Massage Magazine points out that it was actually Johan Georg Mezger, a Dutch practitioner who originally systemized the massage and coined the French verbiage used to describe particular strokes used.
Popularizing Swedish Massage
Swedish massage was first used to improve circulation and reduce pain. Mezger formalized the system for the massage in the mid-1800s, but did not expect its popularity because it would require doctors to use intense physical exertion. However, in the 1890s it became a popular and useful therapy in sanitariums. Eventually, this useful practice would be employed by specialized massage therapists.
The Five Strokes
The five strokes attributed to Mezger are:
Effleurage – long strokes
Petrissage – kneading and squeezing of the muscles
Friction – rubbing
Tapotement – quick tapping
Vibration/Nerve strokes – quick shaking
Today, Swedish massage is still the most commonly requested type of massage. Its techniques apply so generally and address a broad range of ailments, making it the ideal treatment for almost any client.
Stimulating Circulation
Swedish massage is particularly designed to stimulate circulation. This will improve blood flow to the muscles, relieving pain and even promoting brain function. Better blood flow means more oxygen to the places our bodies need it most, which ultimately means a better functioning body.
Relieving Stress and Tension
Swedish massage also uses techniques to relieve stress and tension in the muscles. People who experience chronic neck or back pain due to stress, anxiety or tension will benefit immensely from this type of massage. In addition, people who work at computers or in a single position will also feel relief from Swedish massage.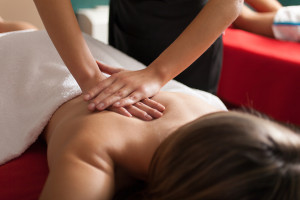 Try Swedish Massage
If you have not had a massage before, it is wise to start with Swedish massage. This massage will address all of your general concerns, while remaining gentle enough to promote stress relief and relaxation. At The Spa at Breckenridge we offer a Swedish massage and a variety of other massages. Don't hesitate to talk with our professional massage therapists to determine the best massage to meet your needs.
Sources