A day in the sun and snow is refreshing for the mind and body, but it can pose threats to your skin. The sun is particularly intense in the mountains. According to Rocky Mountain National Park, there is 40% less atmosphere above 10,000 ft. elevation. It is atmosphere that blocks harmful UV rays. Without this extra protection your skin is exposed to damaging UV rays. In addition, snow reflects these rays, increasing their intensity. These rays can cause age spots, dryness, sunburn and the break down of collagen (which causes wrinkles).
Protection from Breckenridge's Sunshine
The town of Breckenridge is at 9,600 feet and when you are on the hill you are even higher. When you head out to the slopes you can help reduce the effects of sun on your skin. Use a sunscreen with an SPF of at least 15. Apply the sunscreen every two hours. Use goggles that provide UV protection and will protect the skin around your eyes.
During the summer, always wear a hat, preferably wide brimmed and apply sunscreen. Wear long sleeves that cover your shoulders and arms.
In either season, you will need to drink plenty of water to stay hydrated and help your skin combat the effects of sun exposure.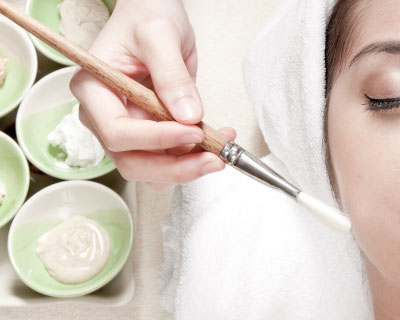 Rejuvenate your Skin
Even if you take precautions, your skin may feel the impact of Breckenridge's high altitude and the exposure to the sun. Facials are a great way to rejuvenate your skin and keep your face looking young and radiant. A facial uses essential oils, massage, and exfoliation to refresh and restore your skin. Two studies cited by Well-Being Secrets found that the application of the types of cosmetic products such as lotions and oils used during facials "led to higher water content, lower transepidermal water loss, and lower sebum secretion." Facials effectively prevent dryness, a very common problem at high altitudes.
Relax
Not only does a facial keep your skin healthy, it can also relieve stress and tension. You carry your emotions on your face. Whether you are happy or sad, your face is working to show or hide your emotions. If you are stressed, you may clinch your jaw or furrow your brow. A facial can work out the tension you carry in your face and help you feel refreshed and relaxed.
Convenient
For an indulgent facial in Breckenridge you don't even have to leave the slopes. The Spa at Breckenridge is conveniently located right on the mountain so you can get a facial and get back to skiing or hiking. An esthetician will examine your skin and talk with you about your specific needs so that you can get a facial tailored to your unique skin. You can choose from a menu of add ons to complete your facial experience and enjoy the ultimate in relaxation and stress relief.
Young and Healthy
Taking care of your face will keep you looking young and healthy. Your face with feel smooth, look firm and stay nourished and hydrated when you treat it to a facial. As you plan your time in Breckenridge, remember the mountain environment that makes this unique town so beautiful can also be challenging for your skin. Take time to pamper yourself so that you feel great.